In conventional cropping systems, mechanical techniques can be used in addition to herbicide applications to help optimize control of problem weeds. Not limited to tillage, a variety of mechanical methods can play a significant role in weed management in conventional systems where effective herbicide options are limited. Examples include fields with severe multiple-herbicide resistant weed infestations and sensitive vegetable and fruit crops. In organic systems, mechanical practices like tillage and cultivation become more heavily relied upon for weed control in the absence of herbicide options. Even in no-till systems, many mechanical techniques still play a valuable role in weed management.

Deep Tillage as a Strategic Tool For Herbicide Resistant Weed Management
Historically, tillage has focused on killing existing vegetation prior to planting and seedbed preparation. Using tillage expressly for weed management is uncommon, outside of inter-row cultivation and organic systems. But the spread of herbicide resistant weeds requires a diverse management approach, which may (and in some cases, should) include the use of strategic tillage.
For small seeded weeds such as pigweeds (Palmer amaranth, waterhemp, and others), the vast majority of seeds do not survive in the soil longer than four or five years. Additionally, small seeds cannot emerge and become weeds when deeply buried. Deep inversion tillage can bury seeds enough to greatly reduce emergence the following season. Research indicates a 44 to 92% reduction in emergence the following season after deep tillage. Furthermore, deep inversion tillage once every 3 to 5 years gives time for buried weed seeds to die. Research indicates over 99% seed death of both common waterhemp and Palmer amaranth after four years. Therefore, strategic tillage can be used to combat small-seeded weeds, including pigweeds.

In this video, you can see how deep tillage works and make your own decision on how and when to implement this strategy on your farm.
Mechanical practices include tillage, cultivation, manual removal of weeds with hand tools, and other emerging, innovative technologies. For producers wishing to generally reduce herbicide use but still maintain weed control and cash crop yield, one option may be to band herbicides in combination with cultivation.

Weeds often emerge after a cash crop has been planted over a high biomass cover crop. If for some reason herbicides were not sufficient, complementary inter row cultivation could be helpful to kill remaining weeds that have emerged. Heavy residue cultivators have been designed to remove remaining weeds when large amounts of mulch are present. Bill Curran, former weed specialist at Penn State University, explains in this video when and how to use this tool as an integrated weed management strategy.
Complementing herbicide applications with two passes with a high-residue cultivator could reduce weed biomass 450 lb/A without yield loss.
Studies such as the above one confirm that integrated weed management tactics are just as effective as herbicide-only weed control programs for managing weeds; given the ongoing development and spread of herbicide resistance, IWM tactics are highly advisable.
Producers using mechanical techniques should consider the timing and frequency of treatments that is best to control specific weeds of concern. Also consider how they'll fit in with other weed management practices in the field, as well as the effect they will have on the soil and overall farm management.
Hand pulling weeds is becoming more common since farmers are now aware of the importance and implications of preventing weed seed set. Picture: Claudio Rubione, University of Delaware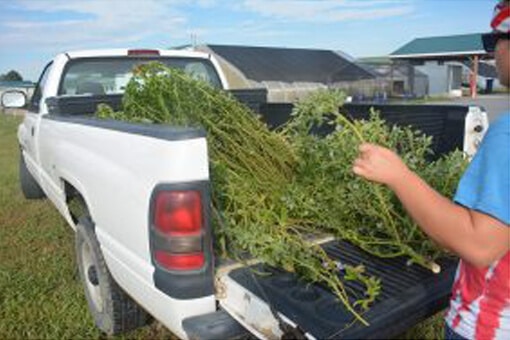 Resources and tips for catering these techniques to particular weed management problems are listed below.
Some examples of mechanical innovations include:
---
Farmer J, Davis V, Steckel L, Johnson W, Loux M, Norsworthy J, Bradley K (n.d) Influence of tillage methods on management of Amaranthus species in soybean. University of Missouri. Accessed online at https://weedscience.missouri.edu/extension/pdf/2014%20USB%20tillage%20study.pdf on April 13, 2020
Hanna M, Hartzler R, Erbach D, Paarlberg K, Miller L (1996) Cultivation: an effective weed management tool. Iowa State University. Accessed online at https://lib.dr.iastate.edu/cgi/viewcontent.cgi?article=1105&context=extension_ag_pubs on April 13, 2020
Jha P, Norsworthy JK, Garcia J (2014) Depletion of an artificial seed bank of Palmer amaranth (Amaranthus palmeri) over four years of burial. American Journal of Plant Sciences. 5:1599-1606
Steckel LE, Sprague CL, Stoller EW, Wax LM, Simmons FW (2007) Tillage, cropping system, and soil depth effects on common waterhemp (Amaranthus rudis) seed-bank persistence. Weed Science 55:235-239. doi: 10.1614/WS-06-198